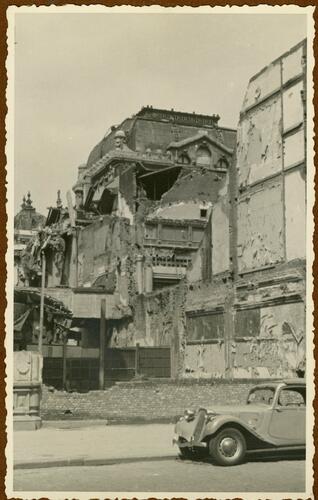 The flying bombs (V-1s) started raining down on Antwerp one month after the city was liberated. The German command wanted to prevent the Allies from capturing Antwerp unscathed and supplying their troops on the front line, by dropping thousands of these vengeance weapons on the city. But the bombs were not always that reliable, which is how they ended up spreading terror throughout the city. They killed 3,560 people, injuring more than 9,000 other people. And the port? Wonder by wonder, it was captured almost intact by the Allies, going on to play an important role in the end of the war. Are you curious to find out more?
Then download the Antwerp Museum App via Google Play Store (Android) of App Store (iOS) to your smartphone or tablet. You find the app at 'Tours' and 'V-bomb walk'. Head out for a walk through the city or take a virtual tour on your PC.
If you can't make the walk, you can see the film and map with the stories behind every location.